"Manga art"—a new form of art, creating by combined refined printing technology with images from the world-renowned field of Japanese manga
A collaboration between Shueisha and Epson to draw out the appeal of Japanese manga as art
Japanese manga has proceeded along its own unique evolutionary path, different from the comics of many other countries which mainly focus on titles for children. The carefully plotted stories, giving novels a run for their money, are one feature that has always appealed to many fans both in Japan and overseas; another is the high-quality, painstakingly-produced artwork.

Shueisha, responsible for the publication of such magazines as "Weekly Shonen Jump," is a company that has fallen in-step with discerning Japanese readers while also helping to nurture homegrown manga into content worthy of standing on the global stage. Having already sent countless hit properties out into the world, this company is now tackling nothing less than the creation of a new form of business—digging down into the latent value of Japanese manga that even the fans themselves may not be aware of, and elevating it to the level of true art.

Shueisha is joined in this endeavor by Epson Sales Japan (referred to below as Epson), who are providing technological cooperation and also working as a production partner. Said technology comes in the form of the ability to recreate the appeal of manga with astounding detail while printing onto the highest quality, large-sized paper. The achievement of such high quality printing, creating results that look like real paintings, has greatly helped in the realization of the medium of manga art. We talked with Masashi Okamoto, head of Shueisha's Digital Business Division, and project members from Epson about the impact this collaboration has had on the field of manga art.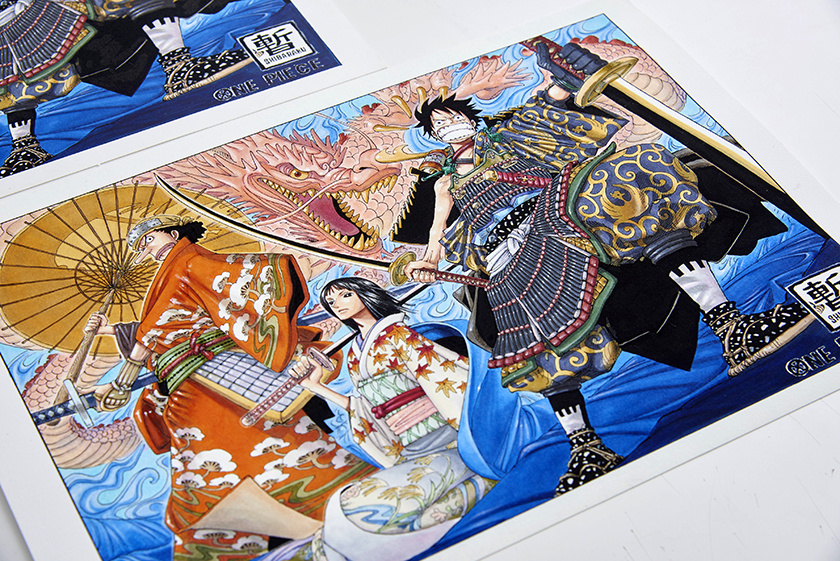 As digital artistry proceeds apace, it raises a dilemma of imparting the true appeal of the resulting work, alongside issues with storage of original source images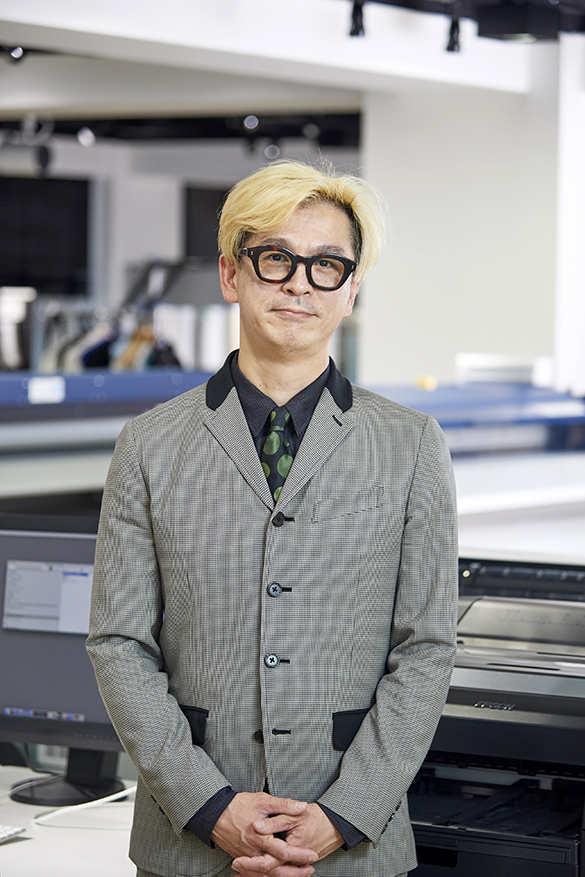 In recent years, almost all manga artists have come to draw digitally from the very beginning of the process. Works drawn in pen by hand, wrestling with ink and paper, have dwindled to just a select few. This digital artistry has a variety of merits for the artist, outside of the most obvious one of making their creating process more efficient. One other such merit is a much greater allowance for detail in every corner of each frame, something that has served to elevate the quality of manga to a whole new level. With the prevalence of digital artistry, many new works and images have been created with the potential to appeal to a wide variety of people, going beyond the bounds of manga. However, the true appeal of these high-quality source images has also not been reaching the eyes of manga fans—until now.

Okamoto sees this source data straight from the artists every day. "I really disliked the fact that the appeal of the images I was seeing, right there in front of my eyes, was not being sufficiently imparted to everyone else. A good example of this is the series "Innocent" from Shin-ichi Sakamoto.
The full digital images include detailed decorations on the clothing, and delicate movements of character's hair, all painstakingly depicted. It really is worthy of the title of "art." In recent times, however, it's become possible to read digitized manga content directly on a device such as a smartphone. The images are unable to impart their full appeal when displayed on such a small screen. Zooming in might reveal the finer details, but it isn't possible to impart the appeal and impact of the entire image that those details create. We felt it was our duty to bring to as many people as possible this extra emotional connection that, at the time, only certain people inside the publisher were able to have."

Even so, titles like "Innocent" that are already been created fully digitally still have it better than many others. The source images for manga penned with ink onto paper in the past have suffered the weathering of time, and even those with far more to offer than simply existing as materials on the history of the art form are now degrading.

According to Okamoto, "Many of the manga drawn before the 70s used very low quality paper, and as the artists from that time are now growing older some of the source images have even been lost completely. Those created from the 80s onward also have their own problems. Manga from the period features a lot more color images, creating using dye-based inks, but these are extremely sensitive to light. Many of them have faded in the years since they were drawn, and have none of the color from the time they were originally printed. All of these issues created the need to be able to store and save these source images, before more of them are lost to us forever."
Seeking a loyal partner to aid in the struggle of turning source images into works of art
Okamoto was driven by his awareness of these issues—and sense of duty concerning resolving them—to first plan a digital collection for "Innocent," in the hope of finally fully imparting its appeal. This was far more than just a plan to collect digital images and turn them into a book—he wanted to create a collection that would itself be received as a work of art. However, simply pasting the source data into an e-book wasn't going to raise it to the level of art. He therefore arrived at Epson, seeking printing technology that would be more suited to true art.

Okamoto explained, "I realized that the only way to impart the incredible appeal and impact possessed by the raw images from "Innocent" would be through printing technology of the highest possible level—perhaps higher than anything ever before. So I needed to find a partner possessed of such technology. However, there were slim pickings when it came to a company willing to work in good faith toward a completely new, unprecedented goal, while also boasting the kind of printing potential that would be required. So I started by going to talk with Epson, the manufacturer of the printers that we use in our laboratory division where our in-house printing is performed."
The appeal and impact of digital source image printing, that amazed even its creator on first viewing
This marked the beginning of a three year collaboration between Shueisha and Epson. It started out simply as an ideal to create high-quality prints of digital source images. However, as Okamoto explained, "As both sides started to get a better feel for what each other wanted to do, and what they were capable of, the idea came up of rather than just having our readers look at a collection of digital works, it would be fun to actually display some of them in a gallery. It was around that time that the musical of "Innocent," directed by Amon Miyamoto, has been announced, and the suggestion was to hold an exhibition to coincide with that. The issue was that when this idea arose, there were only three months before we would have to hold the exhibition!"

Epson, however, was also able to fully meet Okamoto's expectations in this regard. In November 2019, the Shin-ichi Sakamoto "Innocent / Paris - Touch of Revolution" was held at the epSITE gallery inside Epson Square Marunouchi. It featured large-sized prints and B2 size books of incredible detailed images, realized by the high-quality large-scale SC-P9550 printer using an 11 color UltraChrome PRO12 ink set. Additionally, a large shutter sign printed on canvas by the SC-20050X was provided to the venue for the musical—Hulic Hall Tokyo, in Yurakucho, Tokyo.
In regard to the exhibition, Okamoto commented, "Many people came to see it, and it was warmly received on social media too. I was asking for things that Epson had probably never undertaken before—like covering an entire wall in pictures, and making a massive manga comic—and they realized it all in just three months, earning my eternal gratitude in the process. Sakamoto himself was surprised and overjoyed at this physical embodiment of his world, a new experience even for him, the original creator. He creates all that fine detail on a tablet with a liquid-crystal screen, so he'd actually never seen it displayed at such a size before."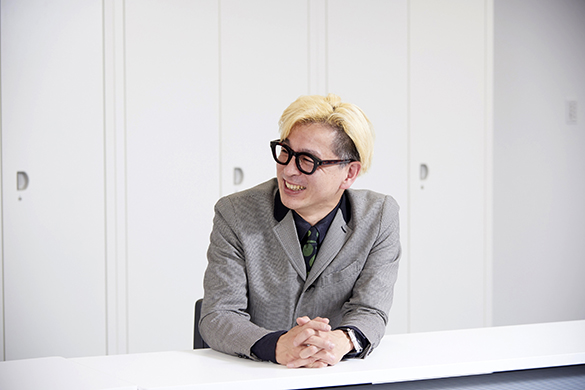 The manga that so excited you upon reading it in the past now lives again as inspiring art
It was through the Innocent gallery exhibition that Shueisha and Epson became convinced of the hidden value of manga digital source images as pieces of art. There was already a product retailed in Japan known as "reproductions," which take the original color images of famous manga, print them out at the original size, and then bind them together. However, this genre had never really broken free from being merchandise aimed at manga fans, and it was difficult to create any high added value. It was therefore decided to label this new genre "manga art," escaping from the preconceptions attached to the reproductions market and appealing to the fact that there are products with new value like nothing seen before. However, when selling something as art, a concept and system is required so that many people in the world will accept the ascribed value. In order to achieve this, Okamoto printed out manga source images at museum quality, retailing only those that the original creator and Shueisha signed off on as limited edition works. The use of block chain technology was also implemented, in order to certify registration and the provenance of the work.
No compromises: creating things of value in collaboration with Epson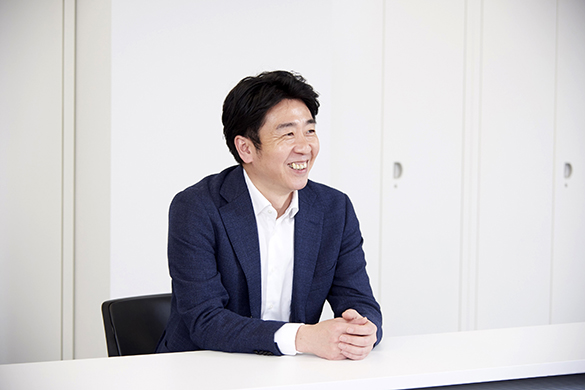 The collaboration with Shueisha was important for Epson too, pioneering a future business model. According to Tsuyoshi Fujimoto, General Manager, Commercial Product Marketing Div. Epson Sales Japan, Epson sees this collaboration as something much more than just the relationship between customer and supplier. "In the past, Epson has operated mainly in the retail business, selling printers and consumables such as ink to our customers. Moving into the future, we want to also be able to provide things of value to our customers that are more intangible. This collaboration has allowed us to make use of our printing technology and knowledge to reproduce highly-detailed images with incredibly realistic colors on large sizes of paper, things we have developed through our manufacturing activities, and support Shueisha—a professional in the content business—in the creation of something more intangible. We wish to continue to create manga art together that will bring joy to manga fans all around the world, and pioneer undertakings in the area of things of value beyond pure retail."
Epson are certainly proactively committing technology and resources into the creation of this new business. The printing has been performed by Epson ten-color large-size printing inkjet SC-P7050G/ SC-P5050G printers, capable of smooth expression of gradation and prefect recreation of a wide range of colors. Both the A1 size and A2 size pieces are printed onto Epson's own "Velvet Fine Art Paper." This paper is made from 100% cotton, providing a high-quality feel while also offering incredible recreation of detail, and is perfectly suited to long-term preservation and storage. Takuya Jingu from Epson Sales Japan explained, "As we are using pigments for all colors, they offer excellent resistance to light and water. Furthermore, as well as CMYK there are also inks for interim colors loaded into the printer, such as orange and green, which allows for more nuanced recreation of colors. This is a technology that is up to the challenge of printing works of art."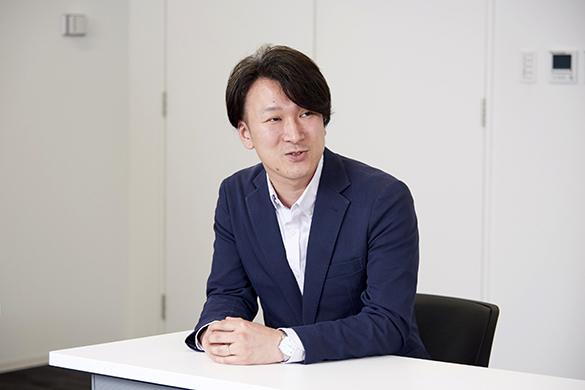 Color control technology based in a scientific approach, seeking to turn approximately 10,000 color source images into works of art
Epson acquired a lot of experience in this new field through the conversion of "Innocent" source images into manga art. However, there were other challenges that had to be overcome in order to create the foundations for a service involving turning 10,000 color source images collected in the Shueisha database into art.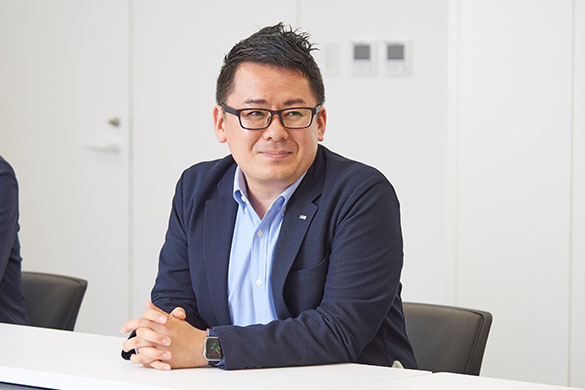 Shigemasa Nakayama from Epson Sales Japan commented, "Generally speaking, the colors desired from a final print are obtained by printing out the piece and confirming it by eye, and then adjusting the data accordingly in image processing software before printing it again. This kind of trail-and-error based adjustment is a repeated sequence of changes to one color having an unwanted knock-on effect for others, and it really is a long and painstaking process. When considering a service based on such a large volume of source data, there simply isn't the time to adjust the colors manually. We therefore decided to establish a scientific approach to accurate color recreation, turning colors into variables while taking into account such things as the conditions when a camera photographs an analog image."
Technologically speaking, this was a pretty high hurdle to clear. Fujimoto elaborated for us. "Epson has a wealth of experience with printing technology, and it's easy for us to create samples which look beautiful at a glance. However, it isn't as easy to strictly recreate the colors of a source image. We are seeing further improvements being made each day." Epson are clearly committed to quality in every aspect when it comes to the creation of this art, unwilling to compromise on anything. This is because, having now become involved in this endeavor, they too feel a responsibility to create new value for those fans who desire manga art. Okamoto still expects more big things from Epson. "The range of colors that Epson inkjet printers can recreate is far wider than those used for general publication in the past, and these printers still harbor far more untapped potential for increasing the quality of the images produced. If both of our companies can continue to accrue the technology and knowledge to draw that potential out, and then scientifically make use of it, it should bring us overwhelming competitive power as the pioneers in this field."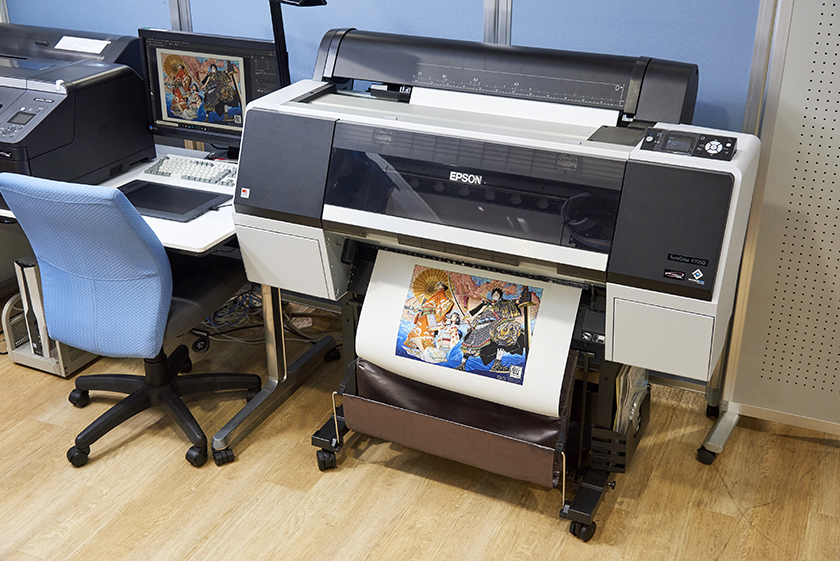 The world of manga art, forged by Shueisha and Epson through an evolution in printing technology
On March 1st, 2021, Shueisha officially launched their Shueisha Manga-Art Heritage service, a global platform for the retail of manga art. The website for the service retails pieces globally from "One Piece" by Eiichiro Oda, "The Rose of Versailles" by Riyoko Ikeda, and "Innocent" and "Innocent Rouge" by Shin-ichi Sakamoto. Okamoto explained that the service has got off to an excellent start. "In the first week, since we started accepting purchases, we've had more than 1000 applications. Around 40% of access to the site has been coming from overseas, and a third of the applications are from overseas too, including counties like America, France, and Singapore. If things continue at this pace, we expect to sell the entire inventory."

Shueisha is hoping to expand manga art into a 100 million dollar market over the next ten years. The Japanese art market is currently around 350 million dollars, meaning that the realization of this goal will have a significant impact on the entirety of the art business.

Epson are also excited about this prospect. Fujimoto commented, "We are a company with many skills when it comes to print technology, but by joining with a professional in content creation and working to create art together, we have also realized many new things on a technical level. We're hoping to pioneer a new frontier in print technology. We're going to further hone everything we have learned, and continue to contribute to Shueisha Manga-Art Heritage while also proactively seeking further challenges in the field of creating intangible value."

The future of not just Shueisha Manga-Art Heritage, but also Shueisha and Epson themselves, is definitely worth keeping an eye on.