Turning a travel cafe into a co-working space to meet the needs created by the COVID-19
The co-creation between Via-at, Inc., (referred to below as Via-at) and Seiko Epson Corporation (referred to below as Epson) made the service, usage-based rate for printer, possible. In this dialogue Mr. Mitsuhisa Ichikawa and Ms. Rika Sato from EAST Co., Ltd, who runs ROUTE CAFE AND THINGS, introduced the usage-based rate printer service, talked about the reason they started co-working space and the prospect for the future.
■Mr. Mitsuhisa Ichikawa
EAST Co., Ltd, Sales Division, Business Creation Department Manager
■Ms. Rika Sato
EAST Co., Ltd
ROUTE CAFE AND THINGS Store Manager
* In the text, honorifics are omitted.
The effects of COVID-19 made operating as a travel cafe more difficult
Ichikawa:
ROUTE CAFE AND THINGS is a cafe-lounge located close to Tokyo Station. Taking advantage of this location—a place where many people visit, and many people also depart from—we opened in October 2019 as a cafe-lounge with the theme of "travel." However, just as business was really taking off, the COVID-19 crisis started, and the number of our customer plummeted. We had only been open for a short time and were already forced to review the concept for the cafe and our operation. During that process, we came to notice the office workers of Marunouchi who were now forced to work from home due to the crisis. Hearing that there were many people seeking somewhere to remote work rather than work from their own homes, we decided to modify the cafe into a co-working space. Further investigations led us to the company Via-at, who provide a platform exclusively for co-working, and so we immediately got in touch with them.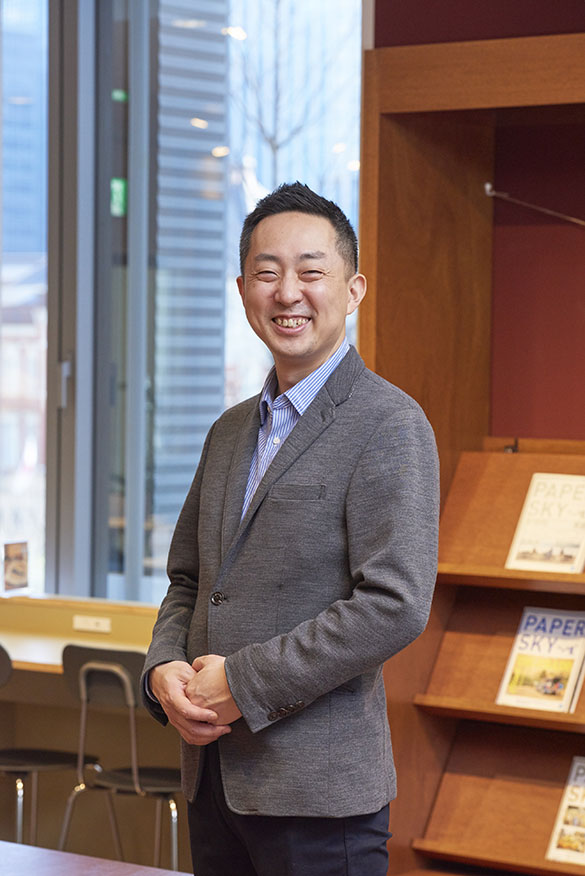 Co-creation between Via-at and Epson, provided solutions for a more comfortable co-working space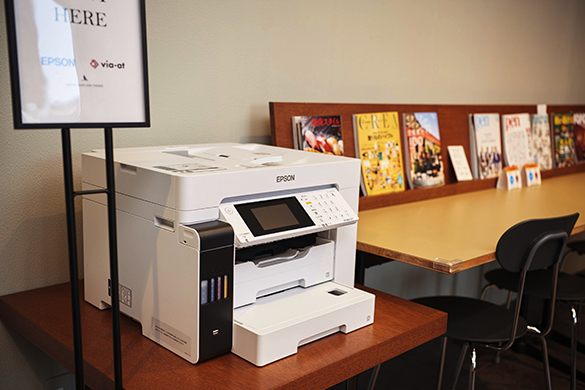 Sato:
We talked with Via-at and came to realize that setting a simple device makes it possible to start co-working space easily. The Via-at service is characterized by allowing usage as-and-when required, rather than paying fixed monthly fee. Registering an account is free, and there are no other fixed fees at all, so it's easy to set up and use. Our customers use it as they are just visiting any other cafe, completely hassle free. When we started the service, we called it a co-working space but were basically only able to offer power outlets and Wi-Fi. Customers started to ask why we didn't have a printer for them to use. That was when we came across the service co-created by Via-at and Epson. They explained that Epson could provide us with the multi-function printer, PX-M6712FT/PX-M6711FT (model fitted with eco-tank), is planned to be fitted with an inbuilt payment system.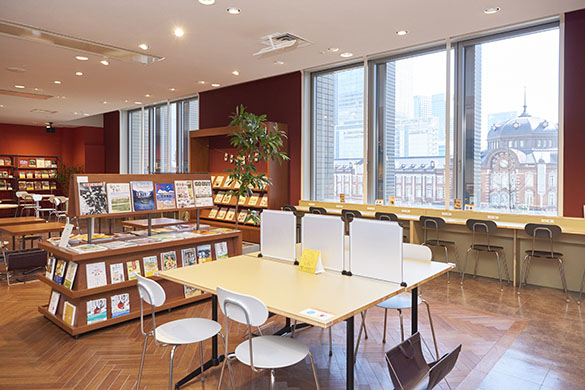 We're particularly popular with people who have become fed-up of working from home and are looking for a spot they can drop-in on close by; people tell us that they love being able to work while looking at Tokyo Station, and that they get more work done here than they would at home. We're also gradually building up a base of repeat customers, and it really feels like we're continuing to refine our workspace. Speaking personally, to begin with I was still approaching this from the perspective of operating a cafe, and so I had trouble depicting in my head exactly the kind of workspace that would satisfy office workers. That's why I'm so grateful to Via-at, professionals in creating co-working spaces, and Epson and their printers—a piece of office equipment that's always in high demand. These two companies have proven to be very reliable and trustworthy, always putting themselves in our position and coming up with ideas to help overcome the problem we've faced. So I'm very grateful.
Ichikawa:
This has also proven to be a very valuable experience from the perspective of adding value to our cafe through this co-creation between Via-at and Epson. This kind of thinking is also important regarding to bring in more customers, and so we want to keep on tackling new challenges, treating this location almost as a kind of a laboratory.
Sato:
We've recently seen people who originally came in for the workspace starting to also pick up and read the travel books that we keep in the cafe. While this isn't exactly how we first imaged the business to be operating, it also isn't that far off the mark. It really makes me happy to see people taking a break by thinking of places they might travel off to, and happy that we started this co-working space endeavor.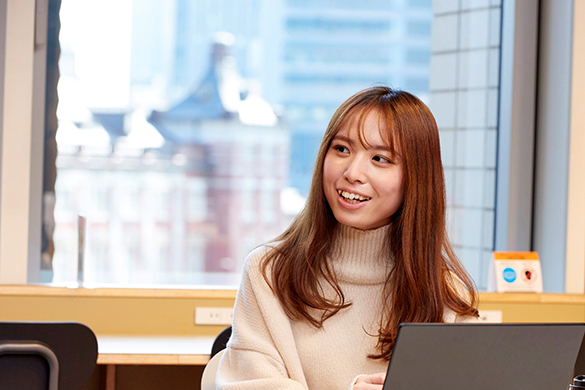 Creating new value through new encounters and interaction
Ichikawa:
The original concept for ROUTE CAFE AND THINGS was "travel," meaning that "meeting new people" was a key theme for us. When we first came up with this, we were thinking more of our customers meeting each other, or meeting us. With the COVID-19 pandemic, we have since experienced all sorts of new encounters that we would never have imagined before. Our meeting with Via-at and Epson is very much one of these. If it hadn't been for the current situation, we would probably have never thought of making a co-working space, and so such a meeting would never have come to pass. Being able to work together with these two companies has created so much new value for us. COVID-19 has definitely had an impact on us, but it also feels like it's brought us many new and happy encounters, and we have got a lot out of it too.

Sato:
In terms of our hopes for the future, I personally think it would be interesting if something akin to a new community could be formed here, in this place. There are many large companies in this part of the city, but also a lot of startups too, and I think there's a lot of potential for more meetings and more exchanges between all of them. It would be lovely if complete strangers, people who would never meet in their normal lives, are connected at ROUTE CAFE AND THINGS, and then go on to create something new together.
Interview: March 2021
Written interview content and names of organization, affiliations, and titles, etc. are as of the time of the interview.