Contributing to the restaurant industry with a customer attraction and branding business model using color label printers
A demonstration experiment to support restaurants struggling in the COVID-19 pandemic
Between March and April 2021, Seiko Epson Corporation (referred to below as Epson) conducted a demonstration experiment on branding by using a label printing service targeted at restaurants. The experiment was part of the efforts to support restaurants struggling in the COVID-19 pandemic. Contributions to customer attraction and branding were verified by affixing labels with QR Codes* to carrier bags used for food delivery.
At the same time, the experiment aimed to establish a B2B2B business model with redish Inc. (referred to below as redish) —a company offering consulting services to the restaurant industry—acting as the hub. redish provides marketing services to increase sales, financial services to decrease costs, and consulting for crowdfunding under their vision "Enrich your restaurant management." Mr. Takeshi Matsukuma, the professor and CEO of redish, says, "We participated in the demonstration experiment for label printing services believing that this could be a solution for restaurants that want to increase their revenue from deliveries."
*"QR Code" is a registered trademark of Denso Wave Incorporated.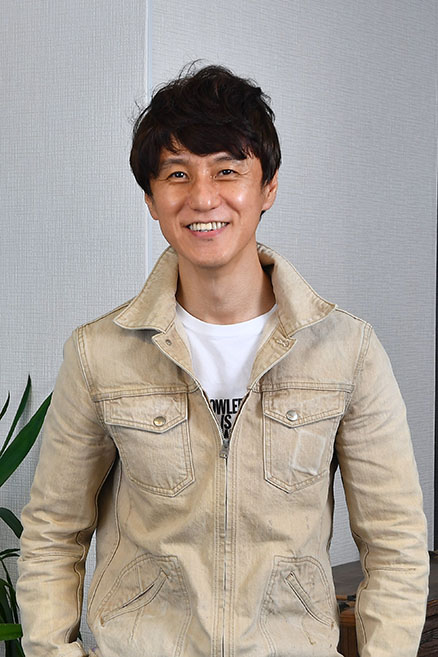 Labels as a solution to increase revenue from deliveries
Opportunities to eat out have decreased markedly after the outbreak of COVID-19, causing sales throughout the restaurant industry to drop significantly. The restaurants that redish consults are also changing. "Many restaurants are looking for ways to diversify their revenue sources. Some examples are food deliveries, takeout, and e-commerce websites. Many restaurants have started deliveries, so we are focusing on sales promotion to increase their sales and also consulting services data analysis." (Mr. Matsukuma)
At the same time, Epson was also looking for solutions to help the struggling restaurant industry, according to Yoshimoto Inoue, Manager of the P Strategic Planning Department at Epson. "Epson wants to contribute to solving social issues. As part of this project, we wondered if it would be possible to support restaurants suffering from the COVID-19 pandemic by utilizing printer technology. We saw the potential of a B2B2B solution using label printers and planned a demonstration experiment, which we proposed to redish." (Inoue)
Mr. Matsukuma says when he was approached to participate in the demonstration experiment, he saw the potential of combining conventional methods and digital technology. "Since restaurants are local businesses, conventional promotion using flyers and labels is still effective even with all this modern digitalization. I thought that this method of combining conventional methods and digital technology by affixing labels with QR Codes onto delivery bags would be a new way to appeal to customers." (Mr. Matsukuma)
1800 labels printed with QR Codes for accessing Instagram* and other sites
*"Instagram" is a trademark or registered trademark of Instagram, LLC.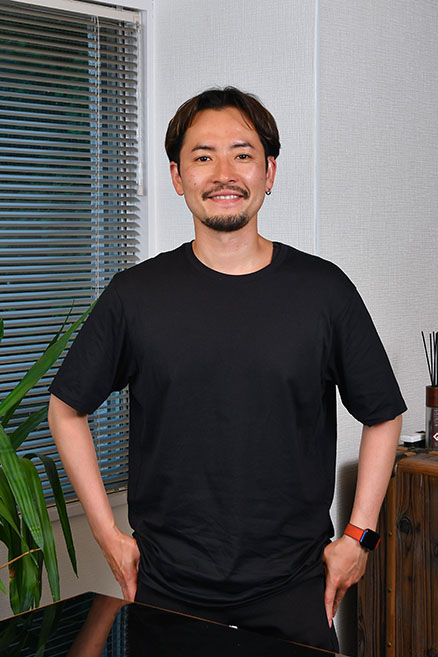 For the demonstration experiment, GHOST Inc. (referred to below as GHOST), a company that manages food services, also offered their cooperation. GHOST is a business promotion company whose vision is "Creating unexpected new value for the important people close to us". Mr. Rintaro Oyaizu, founder and CEO of GHOST is also an advisor to redish. At Itaewon Bowls, a restaurant specializing in low-calorie healthy bibimbap bowls operated by the company's subsidiary, labels were affixed on delivery bags to determine how much the labels could contribute to branding.
Itaewon Bowls, a brand designed by Mr. Oyaizu, opened in August 2020. Menu items are sold through three methods: delivery, eat-in, and takeout. "Itaewon Bowls opened during the COVID-19 pandemic, so we were faced with the challenge of diversifying our operations. In particular, although deliveries have a low profit margin,we have invested in creativity, such as adding messages and including place mats. Since redish is a company that supports the restaurant industry, Mr. Matsukuma and I were discussing creating case studies for various restaurants when we were approached with the demonstration experiment using the Epson label printer, and we decided to give it a try." (Mr. Oyaizu)
For the demonstration experiment, a total of 1800 labels in three designs were prepared. Scanning the QR Code takes the user to a crowdfunding site, Instagram, or LINE*. One label out of the three types, each with a QR Code to access a different site, was affixed to the delivery bag. "We have made an invested effort in creativity and web marketing. As an extension of that, I thought it would be interesting to experiment with the effects on customer attraction by using labels with QR Codes printed on them." (Mr. Oyaizu)
*"LINE" is a trademark or registered trademark of LINE Corporation.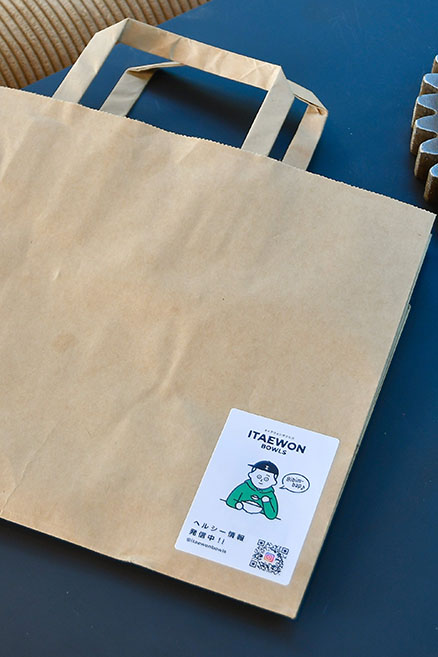 Gaining a new way to attract customers by merging conventional and digital means
As a result of the demonstration experiment, there were 41 accesses from the QR Codes. Although this is not a large number, "The access rate is not bad," says Mr. Oyaizu. "Many of our customers were already aware that Itaewon Bowls was crowdfunding and had an Instagram account, because we were focused on creative and promotional approaches such as flyers from an early stage. If the demonstration experiment had been conducted at a restaurant with less promotions, the number of accesses would probably have been greater. I think that with a typical restaurant, affixing labels to delivery bags would be effective." (Mr. Oyaizu)
Mr. Matsukuma was also encouraged by the results of the demonstration experiment. He felt the potential for a successful initiative of Online Merges with Offline (OMO), a marketing method that transcends the boundaries between online and non-online stores. "This demonstration experiment is a type of OMO. Combining conventional methods and digital technology, such as the effective utilization of flyers and color labels, should attract customers. Once we attract them, we can obtain information on them and make contacts. I think we have created a new method of gathering customers." (Mr. Matsukuma)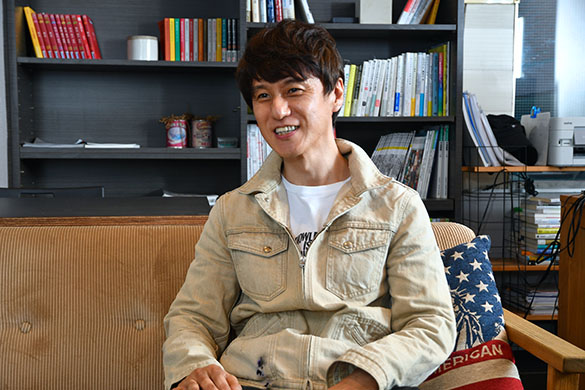 Inoue says he made discoveries through this demonstration experiment. "At first, this demonstration experiment focused on brand promotion using labels. In the end, in addition to branding, we guided customers to crowdfunding, Instagram, and LINE with QR Codes, and this revealed further options for utilizing label printing. I'm hoping to come up with more developments like this in the future." (Inoue)
Importance of clear advantages to restaurants and the motivation to continue
Challenges were also identified through the experiment. For example, it became apparent that a method to increase motivation to access Instagram, etc., from the QR Code printed on the label would be needed. "I felt that it was necessary to design the system so it would give added benefits for reading the QR Code. There isn't much meaning in simply accessing Instagram. However, if special benefits are given only to people who access Instagram from this QR Code and make a purchase, there is an advantage. I want to think of such a design and experiment again." (Mr. Oyaizu)
Another obstacle for restaurants is that it takes time to show results when trying to attract customers using QR Codes. Restaurants tend to stay away from sales promotion methods that need time to achieve results. "Typically, restaurants do not have high profit margins, so it is easier to get them to accept posting an ad on a gourmet website that results in a reservation. However, it is challenging to get them to implement a service that takes time to produce results." (Mr. Matsukuma)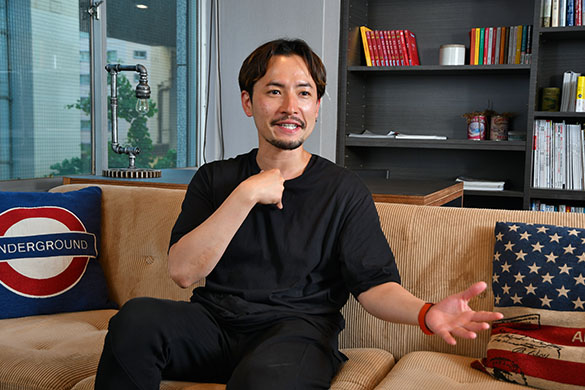 Even so, Mr. Oyaizu explains the importance of having restaurants take the time to work on this initiative. "The effect is not apparent immediately, so we have to take time to use the Plan-Do-Check-Act (PDCA) cycle and gradually produce results. However, the results will improve as we continue, and we must raise motivation to implement this project. Restaurants need new ideas, so providing support to increase their motivation to think through the ideas is also a big challenge we face." (Mr. Oyaizu)
Contributing to the restaurant business by gathering successful examples of label printing services
After this demonstration experiment, Mr. Matsukuma says he has high expectations for collaborating with Epson. "I think the affordable costs, ability to change the design on demand, and high-quality creative results are appealing compared to other companies' printing services. If we can act as the hub in the middle of the B2B2B model and coordinate the restaurants, as we did in this case, then when restaurants want to do something on demand, we can work with Epson to provide a solution that connects conventional methods and digital technology." (Mr. Matsukuma)
Mr. Oyaizu says he feels potential in a collaboration that extends past label printing. "For example, we could create stickers and hand them out as merchandise items that can be affixed to a computer. It will always catch the customer's eye, increasing the probability of the QR Code being read and the site or app visited. I have a friend who has stopped using paper business cards and hands out stickers instead. If we think out of the box as he did, we can create more tools that new customers will be able to see. I would like to work with Epson to devise such designs." (Mr. Oyaizu)
Mr. Oyaizu also made the following requests to Epson. "I'd like Epson to collect more examples of successes and failures in using the label printing service and provide more information that will help restaurants become aware and gain knowledge. I'm sure many restaurants would be interested." (Mr. Oyaizu)
Epson is also preparing to respond to those expectations. "We'd like to continue supporting restaurant owners, who are persevering in their management even under these difficult circumstances, and to help them connect with consumers who want to support their business. We want to understand the problems that people in the restaurant industry faces more deeply. Our ambition is to develop solutions that are useful to this industry by searching for new values other than brand value promotion, such as guiding interactive communication." (Inoue)