Co-Creation Project with the University of Aizu, Junior College Division:
Giving shape to an office design inspired by Epson's growth
Summary of this article
Collaboration and contribution to the community based in "SmartCityAiCT" in Aizuwakamatsu City, Fukushima Prefecture
Epson office space was designed by a class at the University of Aizu, Junior College Division
New interaction and co-creation through the fusion of community traditions and ICT (remote and spatial connectivity)
Seiko Epson Corporation (referred to below as Epson) opened the DX Innovation Lab Aizu in SmartCityAiCT (referred to below as AiCT) in July 2020. A project to create a space design for the office was carried out together with students from the Department of Industrial Information at the University of Aizu, Junior College Division.
Epson held a roundtable discussion with Professor Yasuhide Shibasaki, Mr. Mitsuru Nagaoki, and students from the University of Aizu, Junior College Division, who were involved in the project. The discussion covered topics from how the project started to the participants' thoughts and expectations about the space design.
■ What is AiCT?
"Smart City Aizuwakamatsu" is an expeditious initiative to address and overcome social issues at Aizuwakamatsu City in Fukushima Prefecture, such as the declining birthrate, aging population, and decrease in job creation in the manufacturing industry. The Smart City aims to maintain a stable population over the long term and maintain local vitality by innovation for the town, people, and jobs. AiCT is an office environment organized to attract ICT-related businesses from regions such as the Tokyo metropolitan area. It is an official facility serving as a base for interaction between citizens and companies, with ICT as the theme.
For more about SmartCityAiCT:
https://openinnovation.epson.com/aict/
Interview attendees
■ Professor Yasuhide Shibasaki
Professor, University of Aizu, Junior College Division
(Dean of Student Affairs and professor of the Design Information Course, Department of Industrial Information at the University of Aizu, Junior College Division; architect)
■ Mr. Mitsuru Nagaoki
Part-time lecturer, University of Aizu, Junior College Division (Nagaoki Mitsuru Architect Design Office; architect)
■ Ms. Ran Watanabe
■ Ms. Momoka Shinta
■ Ms. Yua Shimanuki
■ Ms. Kotomi Sato
■ Ms. Maya Kusakabe
Design Information Course, Department of Industrial Information at the University of Aizu, Junior College Division (graduated March 2021)
*Ms. Mizuki Nagayoshi was unable to attend.
■ Yoshihiro Nakami
Manager, P Strategic Planning Department, Seiko Epson Corporation, Center Director of the DX Innovation Lab Aizu
*In the text, honorifics are omitted.
Epson aims for open innovation at the ICT base "AiCT" in Aizuwakamatsu City
―First, please tell us why Epson decided to set up an office in AiCT.
Nakami: Epson's mid-term corporate vision is "Creation to connect people, things, and information." Until now, we have focused on creating products, and our goal is to see how that can contribute to society. We have positioned "AiCT" as a base for promoting open innovation with our partners while studying what we can accomplish using Epson products and technology. This is the first time for our company to participate in such an initiative. We hope to build a community in Aizu where we can work together with residents and the local government to find solutions and try to achieve dreams.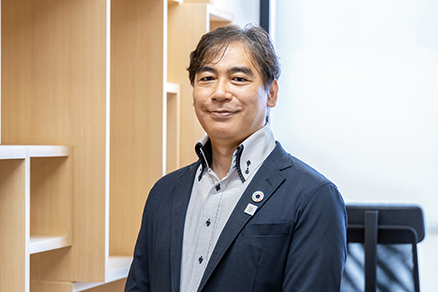 ―Are there any projects that you will conduct together with other companies in AiCT?
Nakami: Yes, we have an open and friendly relationship with the other companies here at AiCT, and we usually keep our front doors open. This atmosphere of companies working together on projects and involving the Aizuwakamatsu City Hall and University of Aizu is very positive.
Expressing an office space for open communication with an "arc"

―Please tell us how the project between the University of Aizu, Junior College Division, and Epson started.

Nakami: We wanted to create Epson's office together with the local community. Ideally, we wanted a space to allow people to experience Epson's technology more openly, rather than a head office-like atmosphere. We wanted a creative space equipped with a large screen providing realistic effects, where visitors could see, touch, and experience our products. We consulted with Associate Professor Fujii of the University of Aizu, whom we met through AiCT, and he introduced us to Professor Shibasaki.
―Professor Shibasaki, what did you think when you heard this plan for the first time?

Shibasaki: Most university students studying architecture in Japan learn to solve urban problems. At our university, we incorporate "practical learning" into our studies. The students first learn to design and build a chair or bench using wood from Fukushima Prefecture. After that, they learn about building design and interior design through interactions with the community. Finally, they learn about city planning by experiencing a program where they try to solve issues such as vacant stores. This is conducted as practical learning.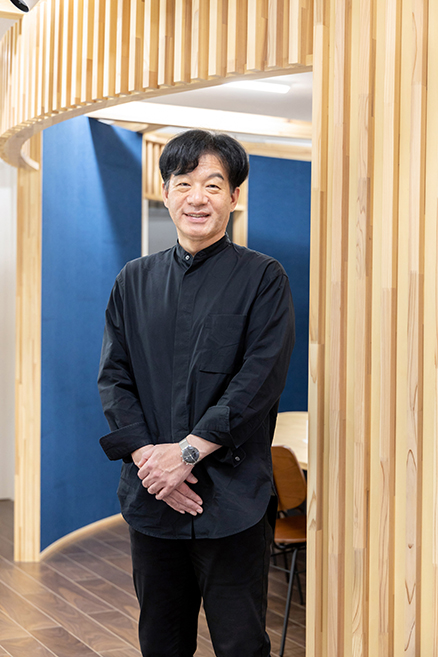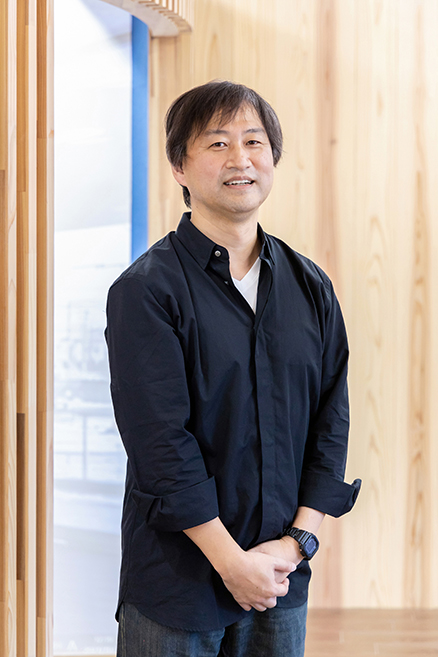 ―Mr. Nagaoki, please tell us about the team that worked on this initiative.

Nagaoki: My seminar is very small with just six students. They split into two groups of three, Team A and Team B, and worked on a design proposal. As a prerequisite for developing the design proposals, we visited Epson and asked them about their ideology, goals, and how they wanted to use the space. The students thought about what Epson could do in Aizu and what the office could be used for during various collaborations.
The class met for a total of 15 sessions. The two proposals were presented to Epson at the mid-term. Epson said they would like to use Proposal B as the base design and incorporate Proposal A into it, so we decided to combine the best parts of both proposals.
Shibasaki: The concepts of Proposal A and B were both good, so let's have the students introduce them.
Watanabe: For Proposal A, our theme was the silver ratio ("yamato-hi" in Japanese, meaning "Japanese ratio"), a proportion that the Japanese feel is the most beautiful. We chose the silver ratio because this proportion is also used for sizes of paper, which is closely related to Epson's printing business. We created the design by combining several variations using this ratio.

Shinta: The theme of Proposal B was "A.R.C (arc)." We aimed to create an office with circularity, centering on an arc with no end. A.R.C. stands for "Active Raise Continue." We wanted the office to continue having a circularity that raises active feelings, an environment where employees can decide for themselves when and where to work. We thought it would be easier to communicate with many people and generate ideas.

Shibasaki: The students' plan to "use an arc to express the image of Epson's growth, instead of closing the circle" was rated highly by Epson. The design using the silver ratio in Proposal A is often received well by professionals, but Proposal B's concept was closer to the company's philosophy, so we aimed to combine the two to create a better design. The students decided to keep Proposal B as the base design and integrate Proposal A.

Nagaoki: The students also took care with selecting the materials for the space, using cedar from Fukushima Prefecture for the vertical lattices that express the arc and Aizu cotton for the partition walls.
The challenge of integrating the two proposals created an invaluable final space enhanced by a sense of accomplishment
―It must have taken a lot of effort to complete the project. What did the students find interesting or challenging in the production stage, and what left a lasting impression?
Watanabe: We proposed built-in shelves using the silver ratio at the walls on both ends. We spent a lot of time trying to figure out how to make it. I can't express the sense of accomplishment we felt when it was completed.

Shinta: In the design stages, we created an arc thinking of space for aisles and the sense of distance during conversations, but we had difficulty making the model. We would start work in the morning and then find ourselves working until past 10:30 at night! We were so happy when we were done with the model, we all took a photo of it. Having six members meant we had several areas of expertise, so we worked well as a team and had fun completing the project.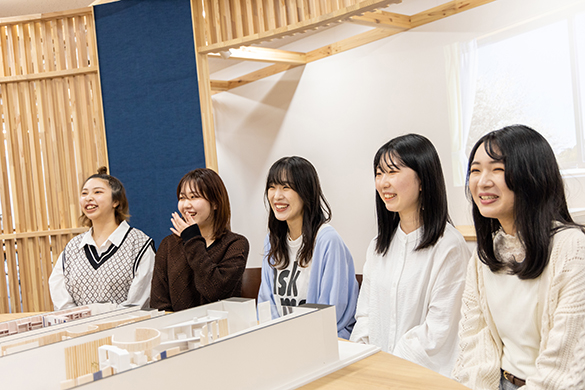 Kusakabe: It was challenging to incorporate the silver ratio into the arc when integrating the two proposals. It was not easy to respect each of the six members' opinions when creating one space. Looking at the completed space, I was impressed that our design was fully reproduced even though some things had to be reduced for cost adjustment.

Shimanuki: Some said that too many arcs would be stifling and that employees wouldn't be able to use the space effectively. I think we did a good job guiding the line of vision to make the space seem larger. Also, natural light and artificial light are utilized very well.

Sato: We had a hard time merging the two proposals, but that was a fun process. It was a wonderful experience that I learned from. In our school assignments, we usually target an imaginary client. This time, however, we were actually proposing to Epson, so I was able to learn more about the company.
―Did your image of Epson change?

Shinta: I kept thinking about how to showcase the Epson products to the customer. Gathering here at the completed space and listening to Mr. Nakami, I realized that Epson is very invested in interacting with the community.

Watanabe: My image of Epson was printers, but I learned that they have various other technologies, which reminded me that Epson is a global company. This was my first time working on a project with an actual client. It was a valuable experience that will lead to future work, so I'm very grateful.
―How is it working in the office?

Nakami: It's great. I especially like this area where we are sitting now. This large screen that unfolds in front of us and the big arc-shaped table are wonderful. Unlike in a conference room, we can talk side by side when we have visitors. The corridor gives a visual sense of openness and makes the office seem large. Other companies in AiCT often say, "Is this really the same size as our office? It seems more spacious!"

Shibasaki: The arc has a long trajectory because it stretches out, followed by a diagonal line of sight. It has an element of Trompe l'oeil—following the arc diagonally by sight results in a sense of spaciousness, which is what the students intended.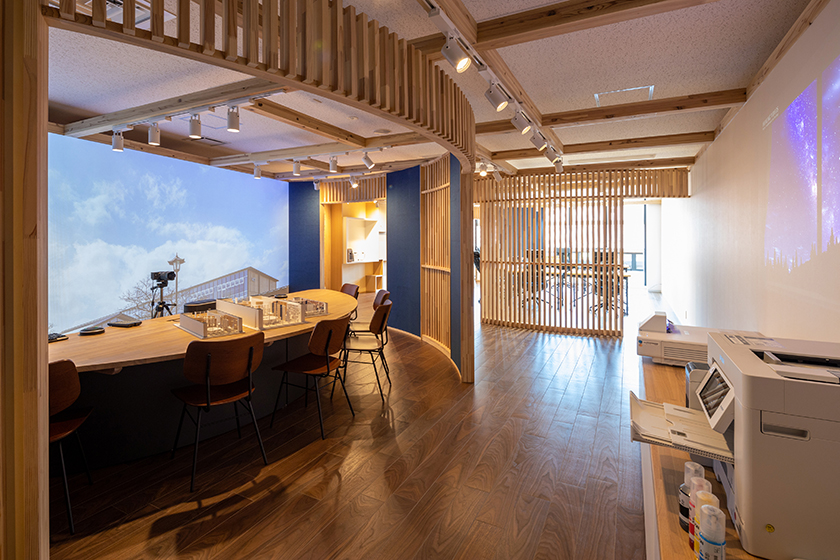 Nakami: I have a favor to ask today. Could you give me some ideas of how to use the storage shelves designed with the silver ratio?

Nagaoki: Well, the students and I came up with some ideas that we'd like to propose.

Watanabe: We propose using the storage shelves as a space to display the output generated during Epson's activities here in Aizu. As for the content, we are thinking of collaboration designs with each research lab in the Design Information Course, Department of Industrial Information at the University of Aizu, Junior College Division.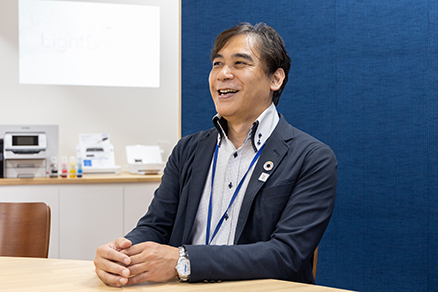 Nagaoki: It's a great opportunity, so we would like to create something with the students in the Design Information Course. It would also be great to work with designers who are active in the Aizu area, in addition to students at the junior college.

Shibasaki: That is the best idea. It would also be good for Epson to introduce what has been created in collaboration throughout Aizu as an archive.

Nakami: Yes, it would be wonderful to display works created through collaborations. Thank you.
Communicating the potential of ICT via collaboration with the industry, government, and academia and enjoying co-creation utilizing a youthful perspective
―Please tell us about Epson's prospects as it works with the industry, government, and academia.

Nakami: I had a chance to see the exhibition of graduation projects by the Department of Industrial Information. The students will be immediate assets in the design field since they have a high level of skills and knowledge of marketing, even from a corporate perspective. Epson is participating in the "K,D,C,,, Membership Program," which is a gathering of producers, chefs, and food technology companies working in the field of "food," which is essential for the connection between people. At "K,D,C,,," which opened directly above Shin-Okubo Station, technology such as projection is being utilized to provide an opportunity to experience the appeal of culture, lifestyle, and food culture in the local community, including by remote. Various designs are required, including signage, menus, printing of wallpaper, and space performances using projectors. We want to support the ambitions of young people through collaboration with the industry, government, and academia in Aizu. We look forward to collaborating with the students at the University of Aizu, Junior College Division, and spreading their talents to the Tokyo metropolitan area.
Currently, we are providing space at this office where people can experience Epson's large screen. I think installing this large screen in the local community would create greater possibilities. These days, I often hear of old Japanese warehouses and homes being renovated as co-working spaces and workcation facilities. If we have a system for remote and spatial connectivity when preparing working space, the space could be developed for various uses and applications. For example, we could connect with the Tokyo metropolitan area via a large screen to enable interaction. We are also considering expanding learning opportunities by connecting schools within the Aizu District or schools outside the prefecture. In addition to business, information can be shared from rural to urban areas. For example, workshops on traditional arts and crafts from the Aizu area could be shared on a large screen so participants can see the pieces at real-life sizes. There's a lot of promising possibilities, so we'd like to spread word of the merits.
*For more about K,D,C,,,:
https://openinnovation.epson.com/kdc/
―Based on what we've just heard, can you tell us about the prospects for the University of Aizu, Junior College Division, and what the junior college expects from Epson?
Shibasaki: The fact that Epson's head office is in Nagano Prefecture is the basis of the company's philosophy and work atmosphere. I have the impression that Epson is very broad-minded. The company has a large stock of intellectual property and can apply it extensively, which sets them apart from other global companies. I am grateful that when we were involved in the project, they were willing to accept our ideas and opinions without clinging to narrow ideas.
The Junior College Division features a wide variety of contents. In the Design Information Course of the Department of Industrial Information, the students not only study design but also learn business administration research techniques and statistics. I hope that Epson will continue to utilize our talents so that we can have fun interactions.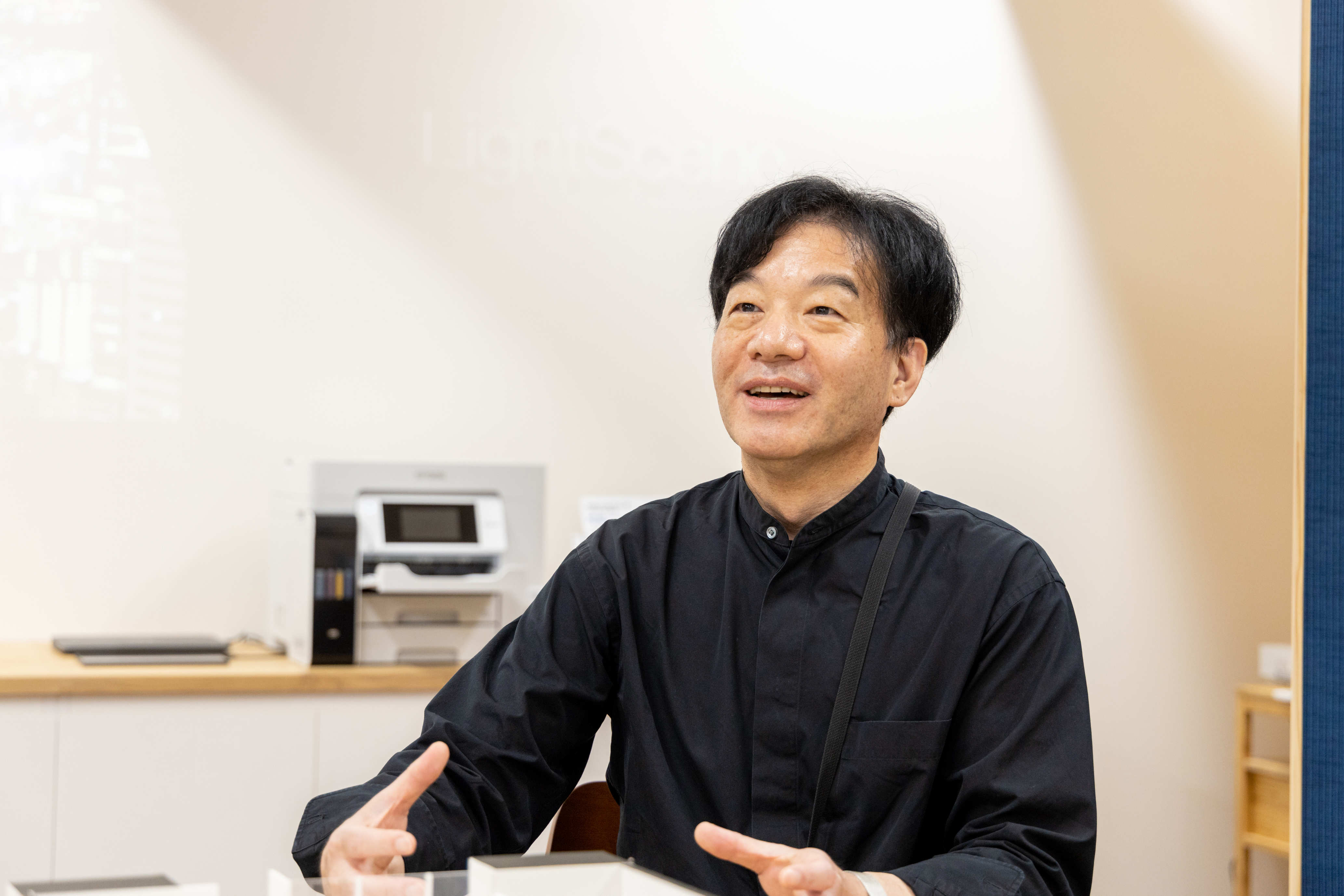 Nagaoki: This project with Epson was very enjoyable since we could incorporate an actual job with practical training. Thank you for the opportunity.

Nakami: Thank you. I look forward to continuing working with everyone.