Combination of conventional and digital means as a solution to support the struggling restaurant industry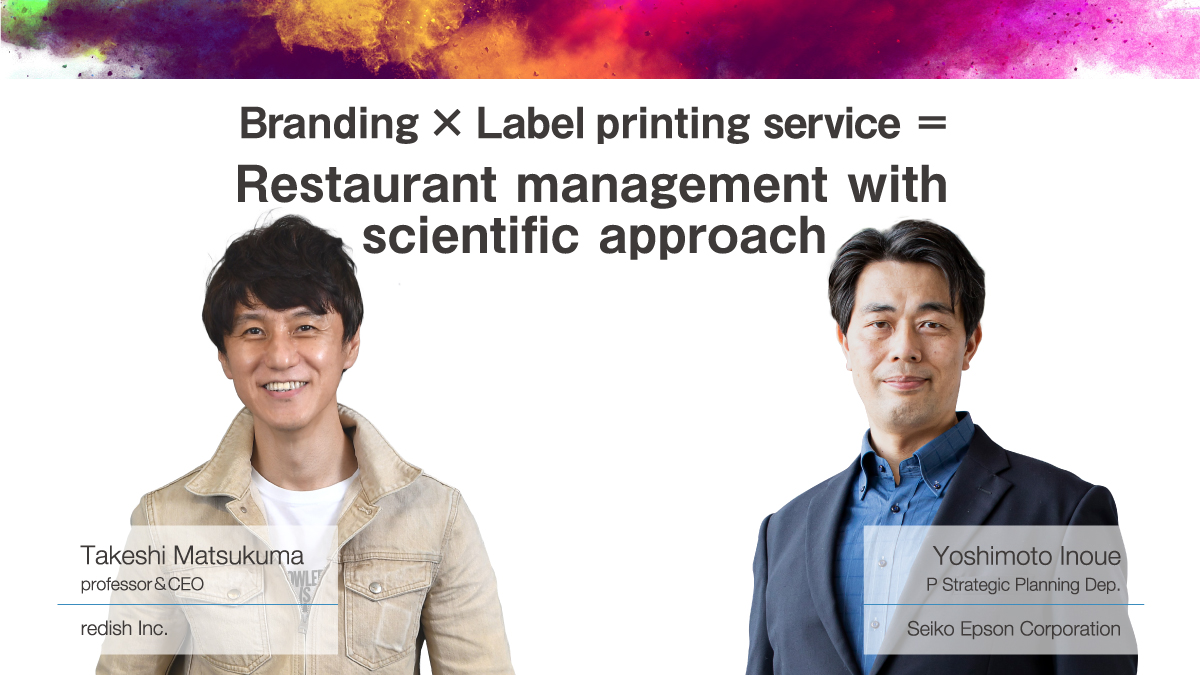 Between March and April 2021, Seiko Epson Corporation (referred to below as Epson) conducted a demonstration experiment of label printing services by affixing labels with QR Codes* to food delivery bags and measuring their effects on branding and customer attraction. In this dialogue, Yoshimoto Inoue, Section Manager of the P Strategic Planning Department at Epson, discussed with Mr. Takeshi Matsukuma, professor and CEO of redish Inc. (referred to below as redish). The demonstration experiment came about in Epson's quest for ways to help the restaurant industry, and it focused on a B2B2B business model using label printers. Mr. Matsukuma and Inoue talked about a range of topics, from the possibility of solutions that merge conventional and digital means to their future prospects.
*"QR Code" is a registered trademark of Denso Wave Incorporated.
■ Mr. Takeshi Matsukuma
Professor and CEO of redish Inc.
■ Yoshimoto Inoue
Manager, P Strategic Planning Department, Seiko Epson Corporation

* In the text, honorifics are omitted.
Matsukuma: Our company provides marketing services to increase sales, financial services to decrease costs, and consulting for crowdfunding to the restaurant industry under our vision "Enrich your restaurant management." We are also creating a platform for enriching restaurant management by utilizing the data we have collected through providing solutions for restaurants.
Inoue: What are the strengths of having a crowdfunding business?
Matsukuma: We have consulted on more than 200 projects so far. On average, one restaurant raises about 4 to 7 million yen in our projects, and the highest was 30 million yen. The average support amount for a restaurant crowdfunding project is between 700,000 to 800,000 yen, so we are handling significantly higher amounts. In addition to crowdfunding, we carefully study how to bring out the attractiveness and strengths of the shop and what value can be provided to whom. Our strength is our multifaceted solutions that are not limited to crowdfunding and extend to social media and paid media, etc.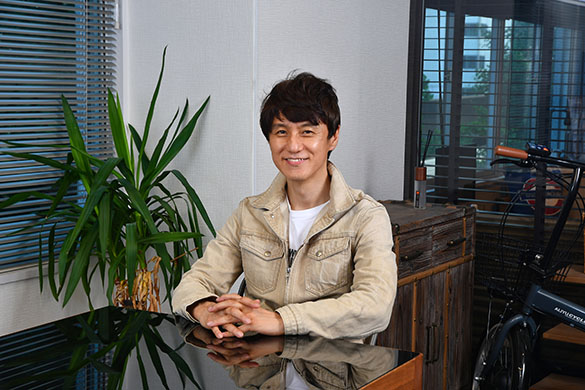 A B2B2B solution model inspired from social challenges
Inoue: The entire restaurant industry is struggling due to the current COVID-19 pandemic, and I'm sure the restaurants that you consult are also facing unprecedented changes.
Matsukuma: Restaurant sales have dropped significantly since fewer people are eating out, and because of this, restaurants are looking for ways to diversify their revenue sources. Some examples are food deliveries, takeout, and e-commerce websites. In terms of costs, they are struggling to find ways to lower their fixed costs. In addition, since most restaurants have fallen into the red, they are borrowing more money. In these circumstances, many restaurants are starting deliveries as a new source of revenue. Our company provides sales promotion and consulting services by data analysis to such struggling restaurants.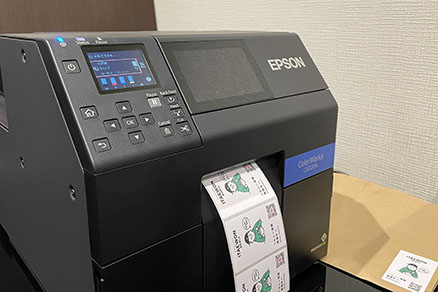 Inoue: Epson is also expanding its activities to contribute further to solving social issues. One such activity is to use our printing technology to find solutions for the problems faced by restaurants suffering in the COVID-19 pandemic.
Matsukuma: That was the incentive for this demonstration experiment using a label printer.
Inoue: That's right. When small and medium-sized companies with low production volumes use labels to brand their products, they usually need to order more than 3,000 labels from the printing company. If they can't use them all, they end up throwing them out. Also, they can't change the printed content easily when they want to switch contents. They could get their own printer, but an industrial printer is a significant expense for a small company. There is also the issue of the time required for designing. Considering this, we thought we could establish a model for a label printing service with reduced costs and man-hours. That's why we approached to you , who provide consulting services to restaurants, act as a hub in a B2B2B business model and collect orders from restaurants , your business partners.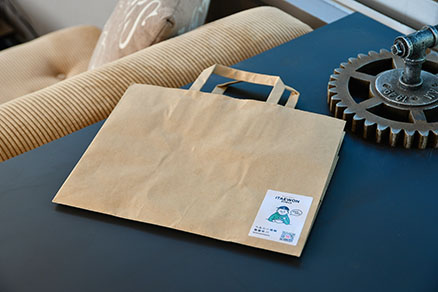 Restaurants are local businesses—which is why label printing services are effective
Inoue: What potential did your company see in this demonstration experiment that made you want to participate?
Matsukuma: I thought that the label printing service would be a solution for restaurants to increase their revenue of delivery sales. Label printing services are more affordable than other printing services and have the advantage of being able to change the design on demand. In addition to deliveries, I felt that combining conventional means such as flyers and digital means would help restaurants improve their sales.
Inoue: That is exactly the fusion of conventional methods and digital technology that Epson is aiming for in DX.
Matsukuma: Restaurants are local businesses. I think the essence of a restaurant business is to have contact with the local people and provide them with a good experience. Since it is a local business, conventional promotion is essential. Even with all this modern digitalization, handing out flyers to people in the community is still an effective sales promotion method. That's why I accepted the offer when I was asked to participate in a demonstration experiment to put labels with QR Codes printed with a color label printer on delivery bags. I thought it would be a new way to reach out to people. I think the value of the conventional is increasing as digital technology advances. It is becoming more attractive in seeing objects in real life rather than on a smartphone screen.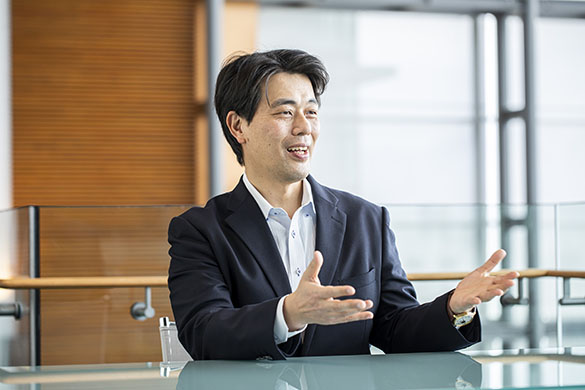 Inoue: Our aim for the demonstration experiment was to see the branding effect of delivery bags and how much end users we could attract. The labels were used not only for branding but also for interactive communication to guide the customer to crowdfunding or social media sites through QR Codes. I feel that we were able to add new value.
Matsukuma: Has there ever been a project like this demonstration experiment?
Inoue: Although it was not an initiative targeting the restaurant industry, we did conduct a demonstration experiment by installing color label printers at farmer's markets across the country so that producers and processing cooperatives could easily promote unique points about their products. It was well-received, but there were some issues, such as the farmers having a hard time thinking of designs and selling points. It was also extra work for the market operators because the farmers were not used to using printers and needed assistance printing out the labels. Based on this experience, we want to make it as easy as possible to use the labels and would also like to apply what we learned to future product development.
Deeper understanding of challenges in the restaurant industry to improve solution services together
Matsukuma: While Epson has hardware technology and a multi-sector network that redish does not have, we have knowledge in restaurant management and networks in the restaurant industry. If we can combine our assets, I'm confident that we can do even more exciting things in the future. It is said that to succeed in the restaurant industry, it requires "KKD," "kan" (intuition), "keiken" (experience), and "dokyo" (courage) in Japanese. However, at redish we want to take a scientific approach to restaurant management, and the key to this is data. We intend to collect a vast amount of data on restaurants based on accounting and the most appropriate restaurant management through data analysis.
Inoue: The restaurant industry is also a large market for Epson, so we want to understand the problems that people in the industry face. Our role is to propose solution services that are useful to the restaurant industry, and a way of achieving that would be to continuously analyze data collected over time.
Matsukuma: I'd like to see our collaboration extend past the demonstration experiment, so we can carry out further verification and help enrich restaurants together. By supporting restaurants with marketing, finance, and technology, which are not their core tasks, I would like to create a world where restaurants can prosper by concentrating on providing food and service and tending to their customers.
Inoue: Epson will continue with efforts such as connecting restaurant owners, who are persevering in their management even under these difficult circumstances, with the consumers who want to support them. Our ambition is to continue providing unique solutions for the restaurant industry.