The Power of Digital - Behind the scenes of DX ceremony for partnership agreement with Nishi-Aizu Town, Fukushima
Nishiaizu Town in Fukushima Prefecture and Seiko Epson Corporation ("Epson") have entered into an "Agreement to Community-Building Cooperation to Jointly Develop a Nishiaizu That Dares to Dream." The parties marked the occasion with a ceremony on June 22, 2021. The purpose of the agreement is to promote a digital strategy by joint public-private efforts and to make life in rural communities more sustainable. Although the signing ceremony took place at the Nishiaizu Town government office, one person joined by video from the Seiko Epson Hirooka Office. This article explains how Epson is promoting the flow of people and exchange with local communities without any fragmenting of communication.
Please see the related news release : Agreement to Community-Building Cooperation to Jointly Develop a Nishi-Aizu That Dares to Dream. (Japanese Only)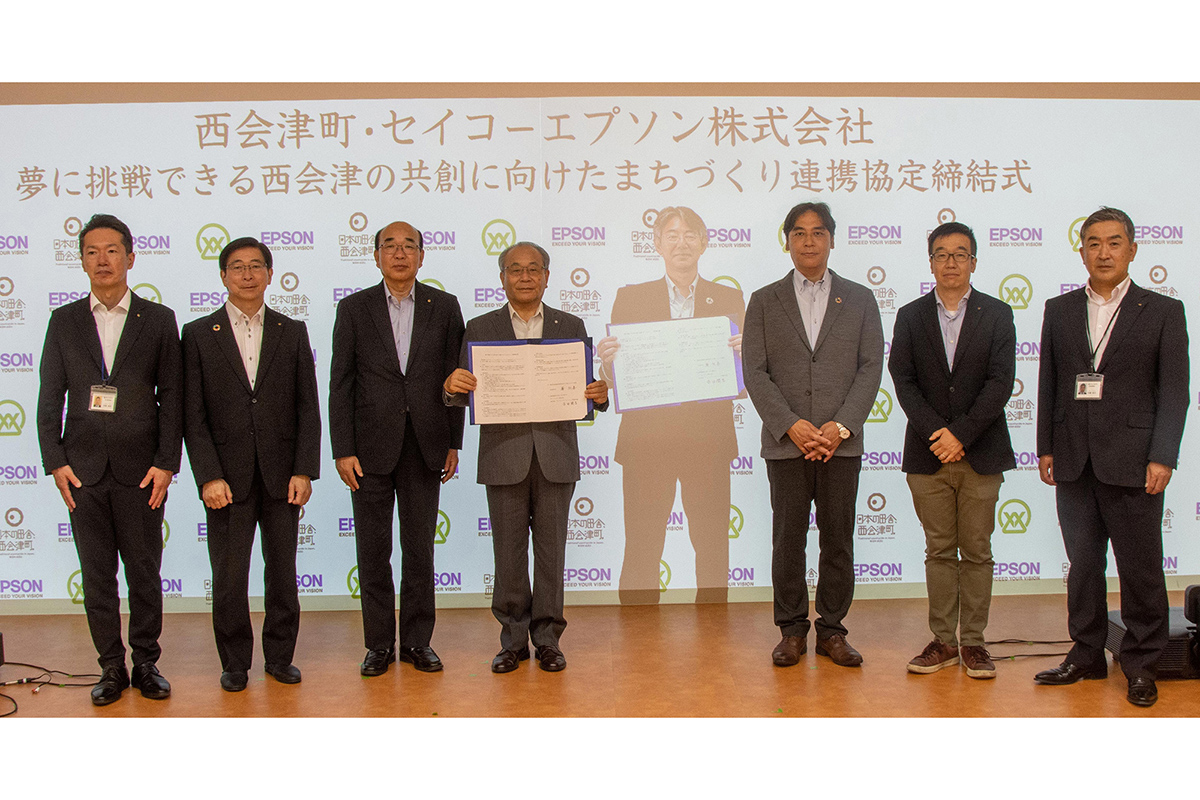 Connecting local communities with remote areas through real presence
Nishi-Aizu Town established its Nishi-Aizu Town Digital Strategy in March 2021. It aims to use citizen-centered DX (digital transformation) to achieve a town where people can pursue their dreams and will want to live here for the long term. Epson, for its part, has opened its DX Innovation Lab in nearby Aizu-Wakamatsu City. It is taking initiatives to realize sustainable lifestyles in rural communities. One example is the company's participation in "Smart City Aizu-Wakamatsu." In the cooperation agreement with Nishi-Aizu Town, the parties are committed to working together to solve regional challenges and build a sustainable town.
As new lifestyles take root in our society, remote communication such as work from home, online meetings, remote learning has become a very familiar part of life. But the problem with remote communication is that there is less sensation of presence compared to in-person communication. Moreover, while movement is restricted due to COVID-19, local communities such as Nishi-Aizu Town or Nagano Prefecture (where Epson has its Head Office) need ways to attract people and revitalize their communities by telling the world about their areas' natural environment, culture, lifestyle, and specialty products. The experimental solution that Epson proposes is "remote space connection." The technology got to use at the ceremony of partnership agreement. With the world's top share in the projector market, Epson believes it can make the most of the large-screen, real presence experience and solve current fragmented communication under COVID-19 with the Power of Digital by Epson.
340 inch large screen creates real presence
The remote space connection solution outlined by Epson is a high-definition and large-screen image that expresses the feeling of being there, even if the participants are separated by great distances. It does so by realizing the sensation of presence, as if the participants were all in the same location. We focused our attention on two elements essential to further enhancing the possibilities of Epson's projector technology: a camera and web conference service. As for the camera, we collaborated with SIGMA Corporation ("SIGMA"), which has a production site in the Aizu region. Together, we integrated their flagship lenses with high optical performance and full-frame DSLR cameras for 4K acquisitions.* On the web conference service side, we specially tuned with ZVC Japan K.K. ("Zoom") to pursue the highest-resolution video transmission needed to achieve the real presence on a large screen.
Because 5G is going to become more common going forward, we will be optimizing the solution so that more people can use it in all types of settings.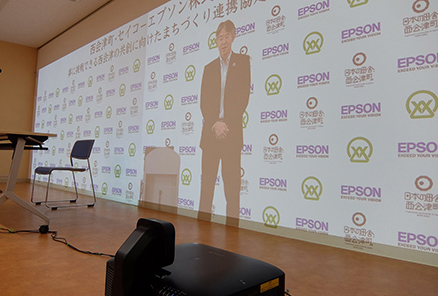 ishi-Aizu Town hosted the signing ceremony, featuring speeches by Tomoki Usuki, the Mayor of Nishi-Aizu Town, and Junkichi Yoshida, an Executive Officer of Seiko Epson. The two gave their greetings, signed the agreement, and took part in a photo session in which they held up hard copies of the agreement. Two ultra-short throw and high-brightness projectors were set up at the event site along with a super-wide (32:9) 340-inch screen. Yoshida joined remotely from Hirooka Office in Nagano Prefecture, about 200 km away in linear distance. As the photo shows, his life-size image was projected as if he were physically present at the event site. Even reporters visiting the venue were impressed by the image, which prompted them to ask, "How did you do that?" The answer is that we had turned an Epson meeting room into a virtual studio.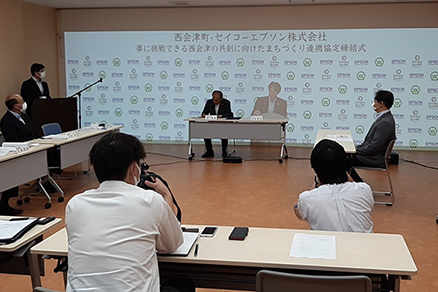 Comment from Taku Negami, Domestic Sales and Marketing Department, SIGMA Corporation
"I'd like to thank Epson for using the SIGMA fp for the space connection solution we set up with them. SIGMA fp is known for high image quality, scalability, and compactness. I'm excited to see that these features are proving useful not just for producing still images and video but also as part of an advanced solution system. I hope more people will become familiar with using the space connection solution."
Comment from Fuminori Saga, Country General Manager, ZVC Japan K.K.
"I have high expectations of Epson's work to create highly realistic video solutions by using the power of digital. Part of this solution is Zoom's high-quality video communication that allows anyone to participate no matter where they are. As large-screen communication, too big to fit in a smartphone or PC screen, becomes more widely used in society, we will be able to offer people a richer experience."
New communication for new lifestyles
Sayaka Morimoto of the Seiko Epson Printing Strategic Planning Department was involved in managing a project of the partnership ceremony and said.
"With digitization happening at a faster and faster pace, society is overflowing with information. The key to getting out a town's message about what makes it attractive is how to create a strong sensation of presence and how to deliver a powerful impression. Online meeting tools are fine for having a conversation and sharing reference materials through a screen. However, a fixed camera and a small display can only share flat video and images. They can't provide an experience with the same level of realism as direct communication.
If more places could provide the kind of experience we saw here—a strongly immersive experience with a powerful sensation of presence and life-size video with little delay—people could spend less time and effort traveling and see delightful and surprising video production. We would all be able to meet and interact with more people.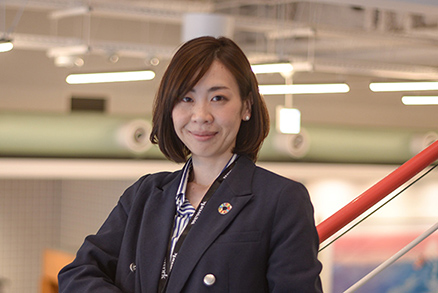 I went to the venue for the first time on the morning of the event, but there was no need to produce a back panel that would ordinarily go up for an event like this. We just had to make slight adjustments in the size of the digital panel and the size of the lettering on it. We were able to do all that after arriving. If we were doing a signing ceremony in a "real" place, I would have gone to the site perhaps a few days early, determined the panel size, printed out the panel, and brought it to the site. All types of adjustments would have been necessary. So I got a strong sense of how nimble we can be with digital.
About a half-year before the event, we started working on the remote space connection solution concept and did a series of tests at Epson, at our partners' event sites, and elsewhere. The recent event, however, was the first time we put it into actual use. Eventually, we hope to be able to do other events. For example, we aim to enable farmers in Nishi-Aizu Town to hold a live harvest festival by connecting to a Tokyo event space. To achieve that, we will have to create a package allowing simple setup with just one button. Furthermore, we would like to challenge the reproducibility of the five senses, including not only images but also sounds and odors. Together with our co-creating partners with whom we've already begun this discussion, we will work closely with people who have a dream and will accelerate the evolution of solutions that can help develop regional economies."
*With SIGMA's support, a mirrorless camera and bright F2.8 lenses were used on the day of the event. (24–70 mm F2.8 DG DN | Art)
More information about SIGMA at https://www.sigma-global.com/en/